Nourish eye fatigue and dryness
Improve eye sight
Maintain high visual sensitivity
Provide eye nutrients
Ingredients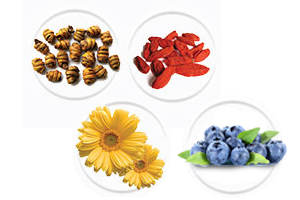 Herba Dendrobiie、Goji、Marigold Flower, Bilberry
Product Information
Eye Degeneration happens everyday Electronics screen hurts eyes sight
Strong blue ray emission is harmful to eye sight
Flashing screen forces pupil to keep adjusting. Constant eye motion accelerates eye fatigue
Focusing on the screens lowers the frequency of eye blinking. Eye dryness is easily resulted Contact lens
Wearing contact lens for more than 8 hours can easily trigger eye dryness and even blurred vision
Fashion/colored contact lens could easily cause dry eyes and cornea infection Aging and vision degeneration
Eye nutrients depletion caused by natural degeneration or other health problems
Aging liver and kidneys would easily affect eye health LASIK and eye surgery
Pupil will be enlarged during eye surgery and that may loosen eye focus onto the macular area of the central retina after eye surgery
Lack of nutrients lowers eye acuity Zeaxanthin & Lutein are essential With basic structures such as cornea, iris, lens, etc., eyes detect and regulate the brightness of the surrounding environment.
Suitable For
Those who often use computers, mobile phones and those with dry, tired or pink/reddish eyes, blurred eyesight or eyesight decay.
Dosage
Take orally, 2 capsules, once daily
Tags: Fortified ISee 60s